Find What Your Need Quick
Register
Register for your favorite PTARC Classes & Events Here.
Get Involved
Find your next favorite class or event here.  You're always welcome to bring a friend!
Events
Find out all of the latest events coming up in the near future right here.
New Memories
Always something new and exciting going on in the Penn-Trafford area. Find out more here.
Parks
We're investing in our public parks from Harrison City to Trafford
We're involved
We're involved investing in our public park systems, helping to secure grants that keeps our community active.
About Us
Find out what PTARC is all about and how you can get involved.
What We Do
Penn Trafford Area Recreation Commission is dedicated to you and our community.
PENN TRAFFORD AREA RECREATION COMMISSION UPDATE
Hi all, We are a strong community and we will stick together to help each other through this difficult time. The health and safety of our family of instructors & participants remain uppermost in our hearts and minds as we navigate through these uncharted waters. We appreciate your patience, understanding & most of all your continued support in these unprecedented times. We continue to postpone all PTARC activities & look forward to picking up where we left off with all scheduled programming as soon as we get the all clear.
Thank you for checking in with us, & may you and yours stay safe & healthy.
Sincerely,
-Linda G. Bires
Recreation Director
Winter/Spring 2020 Registration is Open
PTARC (Penn-Trafford Area Recreation Commission) publishes its Activity Guide three times a year — May, August, and December. It lists all current youth and adult programs, special events, Friends of PTARC fundraisers, discount ticket sales, and more. The guide is included in the Penn Trafford Star.
Click on the picture of the brochure to view the programs and events for January-May 2020.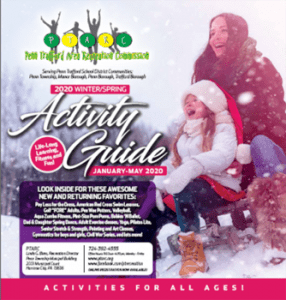 2020 Winter/Spring Activity Guide Corrections
Aquatics: *1st 10-day session – Changed to 8-days. Dates are March 30-April 8.
Saturday 10-week session – Dates are Feb. 22-May 16 with no 3/7, 3/14, 4/11.
*Civil War Series (both classes) – Moved from LGI room to LLA room
*Archery – Added 2 more class dates (April 7 & 14)
*Yoga in the Evening – 3rd session dates are April 28-June 16 with no 5/5 or 6/2.
*Pilates Lite – 3rd session dates are April 16-May 28 with no 5/7.
*Spring Training T-ball – Will run on 2 nights instead of 2 classes on the same day. Option of signing up for Mondays or Tuesdays, 6-7 pm.
Mondays – February 24-March 30 OR Tuesdays – February 25-March 31
*Spring Training Rookie League – Time change and running Mondays, 7-8 pm
Price Corrections:
*PT T-Birds – Correct price is $69/77
*Spring Training T-Ball – Correct price is $69/77
*Spring Training Rookie League – Correct price is $69/77
*Archery – Correct price is $29/37
Over $1 Million in Secured Grants for Parks
365 Days of Activities, Events & Community Park Fun
24 Hour Online Registration for any of our activites and events
Special Thanks to Our Sponsors
With your help we can expand our programs. Call or email us to find out how to improve your community!
Member Municipality Information
Penn Township Municipal
2001 Municipal Court
Harrison City, PA 15636-1349
Phone: 724-744-2171
Fax: 724-744-2172
Website: http://penntwp.org
Trafford Borough
414 Brinton Ave
Trafford, PA 15085
Phone: 412-372-7652
Website: http://www.traffordborough.com/
Manor Borough
44 Main Street
Manor, PA 15665
Phone: 724-864-2422 Option #1
Website: http://www.manorborough.com/
Penn Borough
400 Harrison Ave
Penn, PA 15675
Phone: 724-527-6540
https://www.facebook.com/PennBoroPA/